It is 50 years since The Velvet Underground & Nico album was recorded. A major new exhibition in Paris tells the story of the group which created it and of the New York scene which produced them. Parisians hold the Velvets in particular esteem and, as Allan Campbell notes, the city itself has often been the scene of key moments in the Velvets' history, not least a legendary appearance at Le Bataclan.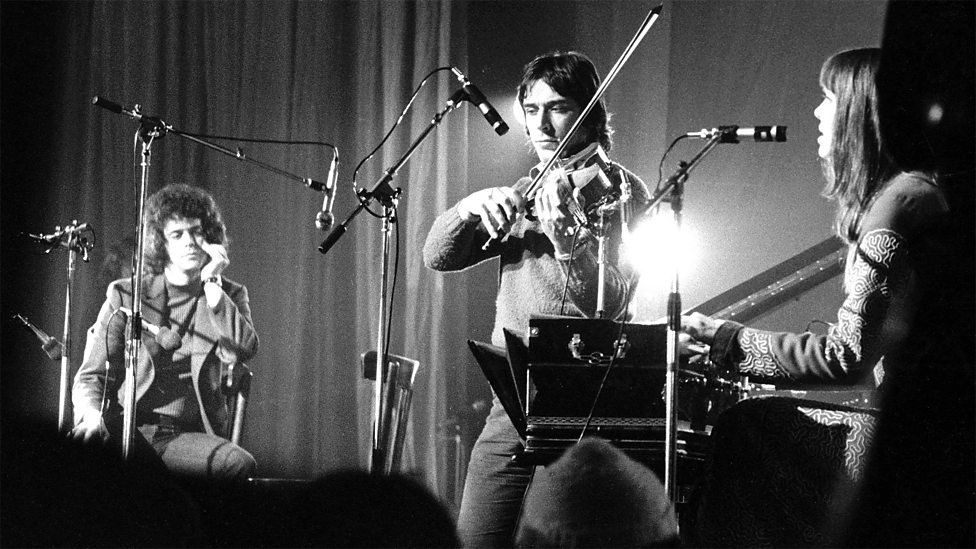 Lou Reed, John Cale and Nico at Le Bataclan, Paris, 1972 | Mick Gold / Redferns / Getty Images
It's a cold January evening in Paris. Outside Le Bataclan an estimated 2,000 disconsolate rock fans are milling around in front of the ornate Chinese-style theatre on the Boulevard Voltaire. They are ticket-less and unable to gain access to a concert which would later be considered the venue's most famous; a title only lost on Friday 13 November 2015, when dreadful events unfolded at an Eagles of Death Metal show.
For the first time since the demise of the original Velvet Underground, co-conspirators Lou Reed and John Cale with 'chanteuse' Nico were to perform a one-off acoustic set at Le Bataclan for the benefit of French TV show Pop 2 and one thousand grateful fans.
It was 1972; Nico was already a veteran of three solo albums; Cale had made his debut with Vintage Violence, remixed a Barbra Streisand album and cut an LP with minimalist composer Terry Riley, while Reed – surprisingly – was yet to release a solo album.
In fact, on the night of the Paris concert he should have been at the Portobello Hotel in London for a 'listening party' for his debut LP, Lou Reed, with no less than Lillian Roxon, then the leading rock critic in the US.
Despite what Melody Maker described as "a minor 'speed-freak riot' in the foyer", the Bataclan concert was a languid, beguiling affair but not quite as languid as the ensuing live album, which had been mastered at the wrong speed.
France's on-off love affair with US culture was nothing new; notably, réalisateurs Jean Luc Godard and Jean Pierre Melville had already expressed it on screen. But with the Velvets, the relationship seemed to become more geographically specific.
In return for the Statue of Liberty, New York had belatedly returned the favour by sending its dark emissaries to the City of Light. And the French, who had after all defined noir, seemed especially appreciative.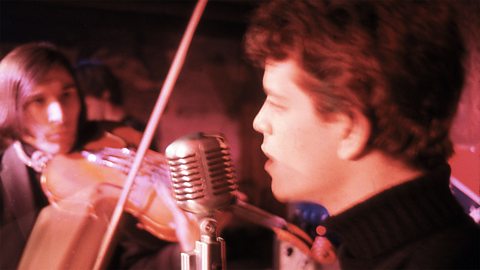 John Cale and Lou Reed at Cafe Bizarre on West 3rd Street, New York City, 1965 © Adam Ritchie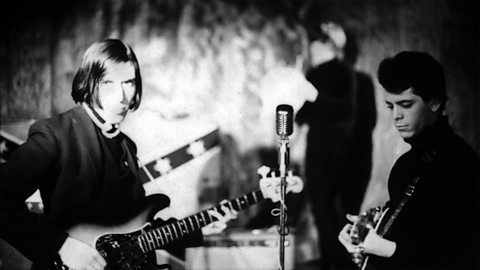 John Cale, Maureen Tucker and Lou Reed at Cafe Bizarre on West 3rd Street, New York City, 1965 © Adam Ritchie
In 1990, when the Velvets reunited – spontaneously, it seemed – once again it would be in Paris. This time it was at the Fondation Cartier pour l'art contemporain, which had mounted an Andy Warhol multi-media show and invited key members of his Factory crowd to attend.
It was expected that Reed and Cale would play something from their Warhol tribute album, Songs for Drella, but they were soon joined onstage by band mates Sterling Morrison and Mo Tucker.
"We kicked into Heroin, which we hadn't played in twenty-two years", said Cale, "And it was just the same as always. After I got off stage … I was on the point of tears".
As the location for this rapprochement suggests, it seems that Parisians have always viewed the Velvet Underground as a work of art and not just because of their association with Warhol.
Now, with the 50th anniversary of the recording of their debut, The Velvet Underground & Nico, the city has again come good for the Velvets with an extensive celebratory show at the Philharmonie de Paris entitled The Velvet Underground: New York Extravaganza.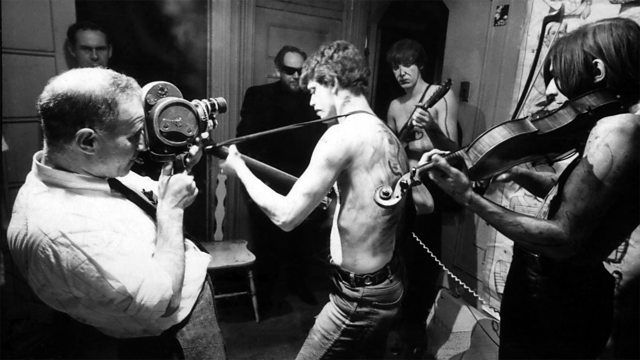 The Making of an Underground Film, a report about Piero Heliczer's film Venus In Furs, with the Velvet Underground performing Heroin, was broadcast on December 31, 1965 on the CBS Walter Cronkite Show. © Adam Ritchie
Curated by Christian Fevret, founder of Les Inrockuptibles music magazine, with art director and producer Carole Mirabello, the exhibition places the Velvets at the centre of New York's post war avant garde, probably the only environment which could have produced such a group.
Paris, don't forget what you taught the rest of us: if you keep an open heart it will beat forever. Goodnight.

John Cale
Music and visuals tell the VU story, taking in Reed and Cale's first meeting in 1964 to their first show with Nico at the annual dinner of the New York Society for Clinical Psychiatry (Hotel Delmonico, New York, 1966), then their appearances at Warhol's legendary Exploding Plastic Inevitable multimedia show and then on to the group's eventual disintegration.
Even after all these years, the music and photographs of the Velvets scintillate.
John Cale returned to Paris to open the exhibition, with full band, string quartet and guests including Pete Doherty, Mark Lanegan and Lou Doillon. Cale, in a nod both to the city's recent pain and its ability to inspire, reportedly concluded the concert with these words:
"Paris, don't forget what you taught the rest of us: if you keep an open heart it will beat forever. Goodnight."
The Velvet Underground: New York Extravaganza is at the Philharmonie de Paris until 21 August, 2016.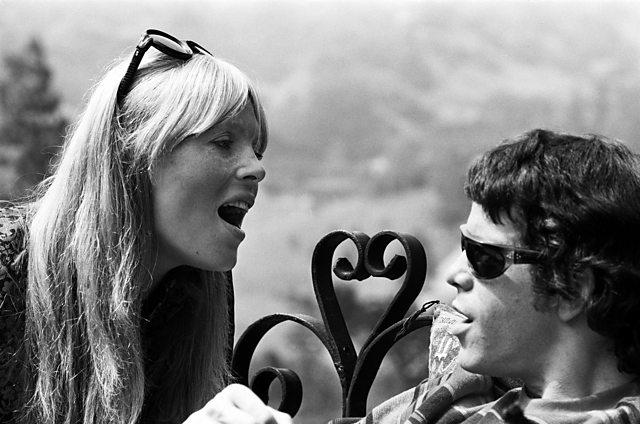 Nico and Lou Reed at The Castle, Los Angeles, 1966 © Lisa Law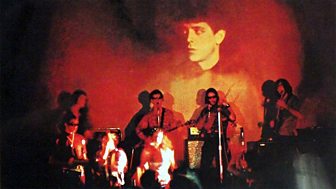 The Exploding Plastic Inevitable: Photograph on back cover of The Velvet Underground & Nico album
Story behind the album cover [recordart blog]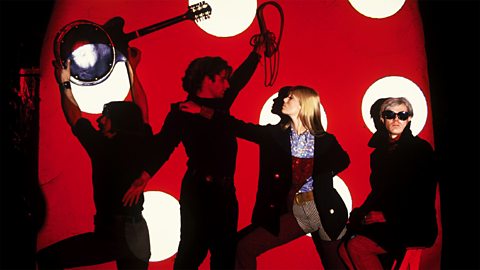 Left to right: John Cale, Gerard Malanga, Nico, Andy Warhol, New York City, circa 1966 | Photo by Herve Gloaguen / Gamma-Rapho via Getty Images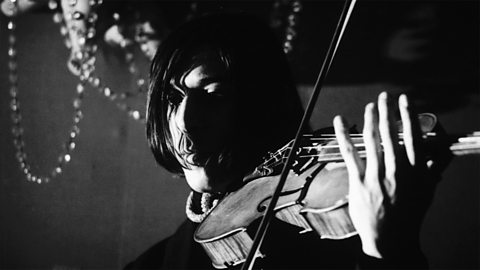 John Cale at Hotel Delmonico, New York, 1966 © Adam Ritchie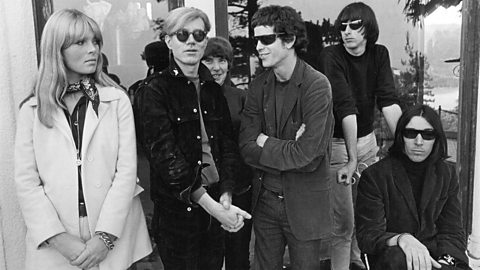 The Velvet Underground & Nico with Andy Warhol, Hollywood Hills, 1966 © Gerard Malanga / Courtesy Galerie Caroline Smulders, Paris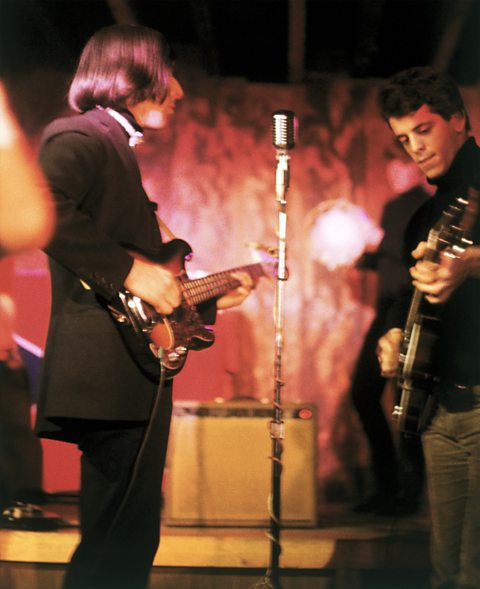 John Cale and Lou Reed at Cafe Bizarre on West 3rd Street, New York City, 1965 © Adam Ritchie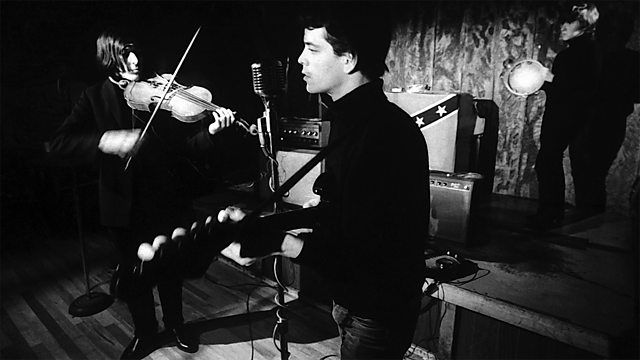 The Velvet Underground at Cafe Bizarre on West 3rd Street, New York City, 1965 © Adam Ritchie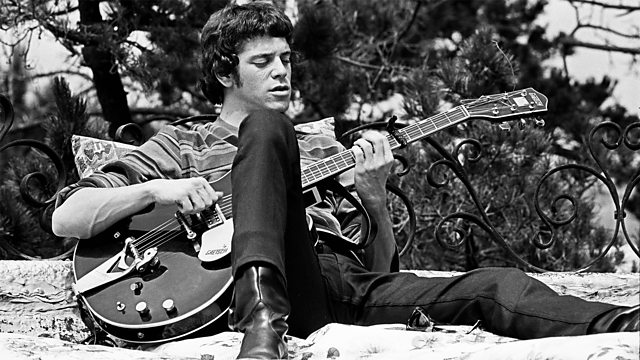 Lou Reed at The Castle, Los Angeles, 1966 © Lisa Law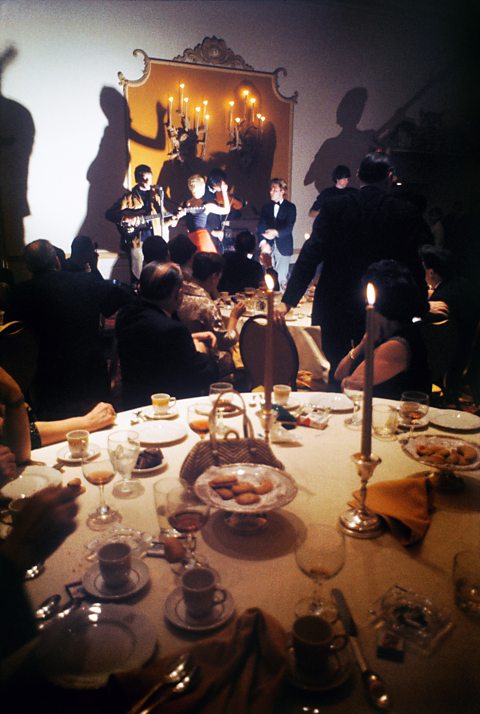 Edie Sedgwick and Gerard Malanga on stage with The Velvet Underground at the New York Society for Clinical Psychiatry annual dinner at the Delmonico Hotel, New York, 13 January 1966 | Photo by Adam Ritchie / Redferns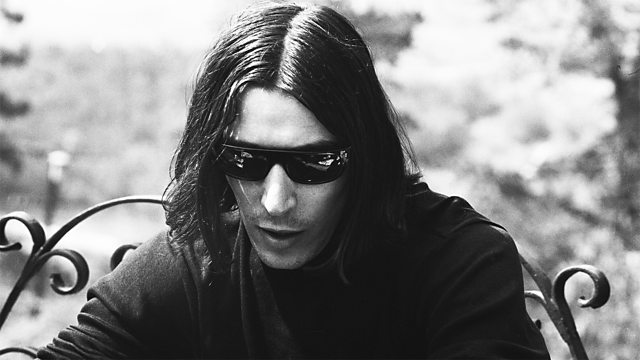 John Cale at The Castle, Los Angeles, 1966 © Lisa Law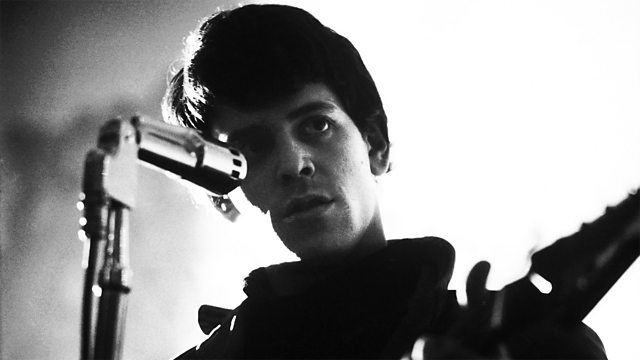 Lou Reed at Hotel Delmonico, New York, 1966 © Adam Ritchie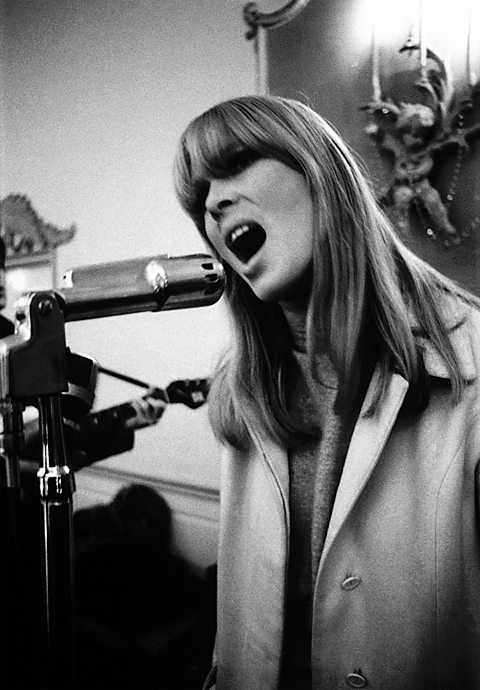 Nico at Hotel Delmonico, New York, 1966 © Adam Ritchie

Chris Steele-Perkins on why photographing teen subcultures is so much more than style over substance.
The invention of the 'teenager' in the 1950s was a global, almost simultaneous phenomenon. Defined by groups of youths rebelling against the expectations of their parents and wider society in their behaviour, attitudes and clothing, movements sprang up in America, Australia, Japan and beyond. Identifiable by their clothes and the music they'd play, these youths revelled in a post-war freedom not enjoyed by the previous generation.
In the United Kingdom, one facet of this newly emerging youth culture was working class youngsters adopting the formal and flamboyant tailoring of Edwardian dress. Known as the 'Teds' (nodding to the Edwardian era their look was borrowed from) their jackets – often sumptuous velvets – had wide notched lapels accessorized with a skinny tie or bootlace, and they wore brothel creeper shoes on their feet. "The Ted swaggered with it all out front, male sexuality overt," wrote journalist Richard Smith. As well as a way of dress and a style of music, owing to several high-profile incidents, the Teds were also associated with wayward and yobbish behaviour and public fights that led them to being banned from some venues.
Trends die, music moves on and teenagers become adults. More youth culture movements would follow, but with them would come a surprising phenomenon of recycling. In a move that on the surface would seem somewhat at odds with the maverick trailblazer idea of youth in revolt, many youth movements have had subsequent second waves. For example, Brit Pop in the 90s borrowed many of its fashion cues from the music and social movement of Northern Soul in the 70s. Some twenty years after the arrival of the Teds, a second wave of young people, who were often not yet born when the original wave hit, began aping the style, music culture and attitudes of their Ted forebears.
Chris Steele-Perkins, along with writer Richard Smith, were commissioned by the now-long defunct New Society magazine to cover the second wave of the Teds for a story, which grew into a self-motivated study of the British youth movement over several years. Steele-Perkins, who at the time was donning a more relaxed style and long hair, remembers the first wave of Teds when he was a child in the 1950s: "Each town had its own Teds who hung around on street corners smoking and sort of grunting at people. My father would rail against them and threaten to turn me over to them if I didn't behave myself. Maybe that helped to drive my curiosity when I was older."
To See and be Seen
"The gear: it's smart; it's great stuff; it's much smarter than flared gear. The hair: it's tidy; it's not long and straggly. You walk down the street and you get all the old people – the original people who was there in the fifties – looking at you and saying, 'Ah, look there's Teddy Boys'. You get great screws from people. You get people looking at you as if you were really brilliant like, as if you were really great," said a Ted who spoke to Richard Smith.
Since the Teds put so much effort into crafting their look, they were expectedly keen to be photographed – "Well, they weren't there to be ignored; that wasn't their vision of themselves in life," says Chris Steele-Perkins. However, this presented its own challenges as the photographer had to work around their propensity to peacock in order to capture genuinely candid shots. "You had to then get to the point where they didn't just pose for you," he adds.
"You're a somebody as opposed to the bricklayer or the butcher's boy" ( Chris Steele-Perkins)
Subculture Vs. Fashion
What Steele-Perkins's photography shows, corroborated by Richard Smith's writing from the time, is that the Teds second wave was more than just a way of dressing but a lifestyle. We see evidence of the characteristic Teds attitude filtering through to the way youths behave, socialize, interact with and even romance each other in his photographs. Chris Steele-Perkins muses on what separates a subcultural youth movement from a fashion trend:
"It's the roundedness of it, it has a slang, a code, a dress code, a sort of knowledge of certain areas, esoteric areas that might be rockabilly music, for example. With (1970s UK music and culture movement) Northern Soul, it was obscure songwriters, for example. It could include a dance style, or a way to dress – all those little cultural tick boxes. It becomes part of their identity. You're a somebody as opposed to the bricklayer or the butcher's boy; you're this guy that people think look fancy and they might be frightened of you just because of the clothing you're wearing."
The Importance of Documenting Youth Culture
One critique often lobbed at the study of fashion and teen culture is that it is frivolous, but, as Steele-Perkins explains, it, like an anthropological study of the teen species, reveals a significant amount about the society from which it emerges. "What I tried to do was to document a subculture, and quite a major one in British society," says Steele-Perkins. "I went into their homes and documented them in all kinds of contexts, and the clothes, in the end, become relatively peripheral to the whole thing. I'm not interested in them per se, they're part of the package. And it's like most things, leather jackets, you know, it all fades away. It's much more about identity and who we are."
This attitude is emblematic of Steele-Perkin's lifelong photographic approach; it's what draws him to photograph the subjects he does: families, sports, cultural gatherings, microcosms. "That's why I photograph England, in particular," he says. "All my working life I've been drawn to these small worlds which have the whole world in them. It could be the Teds, it could be Holkham estate (a private aristocratic estate in North Norfolk); it's pretty similar in terms of it being a world within a world with its own rules and its own codes."
A new edition of Chris Steele-Perkins's book 'Teds', featuring written vignettes by Richard Smith is out now, published by Dewi Lewis Publishing. Images from the book, plus several not published before are on display at the Magnum Print Room in London until October 28.